We highly recommend you setup an automation schedule for Alfred.
Alternatively, you can open and quit Alfred when you start and end your day, but if you're forgetful, it's best to setup a schedule so that Alfred is not running 24/7 otherwise you risk getting your account flagged by Linkedin. By default, it is set to operate between 9am and 5pm Monday to Friday.
Running Alfred 24/7 will get your Linkedin account restricted or worse, banned. Keep your account safe and setup a schedule to run no more than 8-10 hours a day.
Setting up a schedule for Alfred is super easy. So let's begin.
Click your profile photo within your Alfred dashboard and select Settings. You'll see below 'Work Hours'.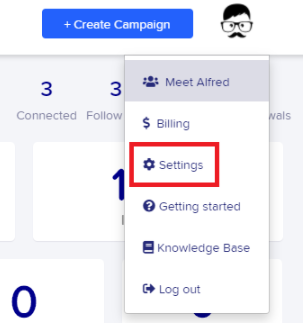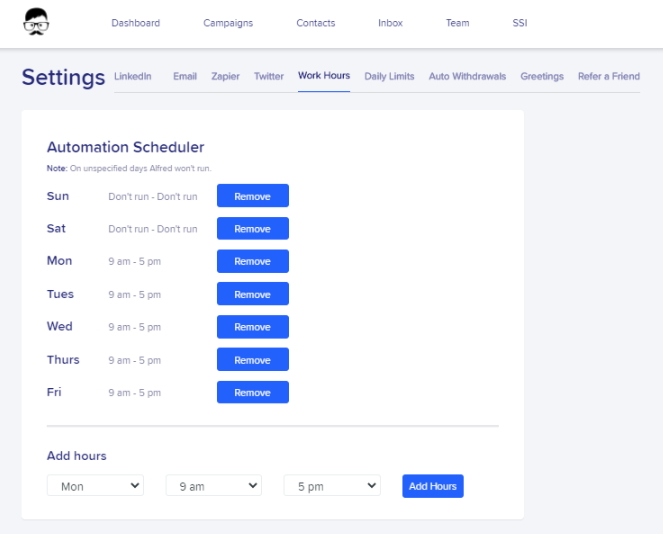 If you're a light user or new to Linkedin, we recommend setting up an initial automation schedule that runs 3-4 hours a day for 2-3 of weeks. After the first month, gradually ramp up the schedule to 8-10 hours over the course of 3-4 weeks.
Now, if you're a heavy Linkedin user with a premium subscription or have used other Linkedin automation tools in the past, we recommend setting up an initial automation schedule that runs 4-6 hours a day before ramping it up to 8-10 hours.
You can set up your time preferences for each day of the week by selecting the day and start and end times from the drop down menus. When you are done, click on Add Hours to commit.
To remove a preference, simply select Remove next to the hours.