This new bot version published has a series of new feature releases and this includes:
1. More search options. We now offer the following search options in the CRM for 1st degree connections: Keywords, Title (eg. CEO), Company, Geography, Industry and Languages. In addition we have the following filters: Premium profile only, Open Link profile only, profiles with emails and profiles with phone numbers.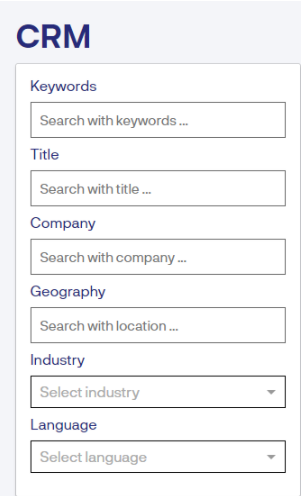 2. More data displayed. We now offer the following data points (where available) as icons: Email, Phone, Skype, Twitter and Website. These are all clickable. So as an example, someone can click on the email link to send them an email from their default email client.

3. Conversation icon. This is yet another icon, that when clicked, it takes you to the conversation on LinkedIn so you can message that person. These links will appear for all 1st degree connections but will take some time to display as they are synced with the database.

Campaign Features
Auto-exclude already invited leads. When users create new campaigns, duplicate profiles appearing in other OLD campaigns will NOT be moved. They will stay in the old campaign.The only time a lead that appeared in and old campaign will show up in a new one is if the old campaign is archived.
Moving leads in CSV campaigns (not allowing active leads in multiple campaigns)
Showing a notification dot in the campaigns page with information about moved leads and skipped leads due to being already invited in a different campaign.