The user has two options on how to create a campaign and gather 1st connections from the Alfred app:

1.) You can click the 'Create new campaign' button to start with and choose below options '1st Degree Connections'.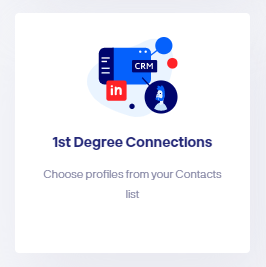 2.) Go to 'Contacts' at the navigation bar then select 'Connections' below. From there you can tick the small box to choose for or if you have created a specific tag and/or filters for the profiles you wanted to add with your campaign, you can fill in the details from the filters section.

Using tags or looking for them in any of the filters available in the Connections page is easier for you to gather leads and create a campaign with your LinkedIn connections.

Please note that you can only create a campaign for 'Connections' only.